Competent, Committed, Customer Focused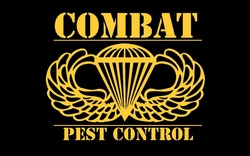 Q: What do you get when you combine 17 years of Pest Control Industry experience with 20 Years US Army Experience?
A: COMBAT Pest Control!

Welcome to Combat Pest Control (CPC). I'm Steve Clauser, and I own and operate CPC. One of the biggest mistakes one can make is making the assumption that all pest companies are the same. The difference between one company and another is the competence of the technician. I have the experience, expertise and dicipline to create the value my customers expect.

In pest control, you really do get what you pay for. I'm not the cheapest, but based on the time I spend at your property, the quality materials I use at your property and the quality tools I use to treat your property, you do get the best value. The choice is simple, hop from one "cheap" company to another and expect a different result (insanity) or choose the Best Value Option at Combat Pest Control. Best of all it ends up being less expensive, better, and safer for your family - - Because you get the result you are paying for!

The Combat Difference

1. Did you know that less than 8% of pest technicians are State Certified? Thats because they havent passed the state exams for that certification. Most technicians work for a Certified Operator (CO). The CO is responsible to train technicians and is ultimately responsible for their treatments. I am State Certified in all residential and commercial structrual pest control categories to include: GHP, Termite and Fumigation.
2. Did you know that many pest companys premix their chemicals "at the shop"? This is because chemical is a high cost line item on the Business P/L statement. Many companys try to increase their margins by skimping on the chemicals used around your home. Unfortunately, there are a lot of poorly trained technicians in the field who work for both large and small companies. This premix solution is applied at every customer that day - -no matter what the problem.

At Combat, I inspect for problems, decide on a course of action, then implement that course of action. The solution may be different, even if the problem seems to be identical. For example, I had two homes next door to each other with Argentine ants. One home I treated completely with Termidor and the other I treated 3 sides with Termidor and 1 side diatomaceous earth. Why? One of the homes had a vegetable garden on the side and Termidor would have been an illegal application to that area and more importantly would have potentially harmed anyone eating food from the garden. Your ill trained spray tech would have treated the garden and possibly jepordized the health of your family! Sure, ill trained technicians are still nice guys and they may get your paper for you from your drive way, but the fact is, they can be a long term health risk to your family and pets.

I believe a great business is built on a foundation of Trust..I am commited to building that trust by providing you with personalized, effective and eco-friendly service. No gimmicks or false claims. If you give me the opportunity, I guarantee, I will not fail you.

Don't wait, call me now at 813-406-PEST (7378)! Or fill out the contact sheet on the Home page. I look forward to earning your business! See me on Yelp!

The pictures are: Top : Me sitting on the Ziggurat, in the town of Ur, Iraq. This was taken in the late summer of 2003. Ur is mentioned in the book of Genisis and is the birthplace of Abraham.
Bottom photo: This is a collage The picture with soldiers in formation is my unit the 387th during our pre-deployment training at FT Bragg North Carolina 2008. The other pictures are from a trip I took to Camp Victory Baghdad, The Tent with sandbags is where we slept, the picture of me is on "Catfish" Air, which was the Helicopter shuttle between LSA Anaconda, Taji and Camp Victory. The picture on the steps is my team in the Corps Headquarters, Al Faw Palace Baghdad 2009. The left center picture: inside a C130 transporting us to Camp Arifjan Kuwait.
---